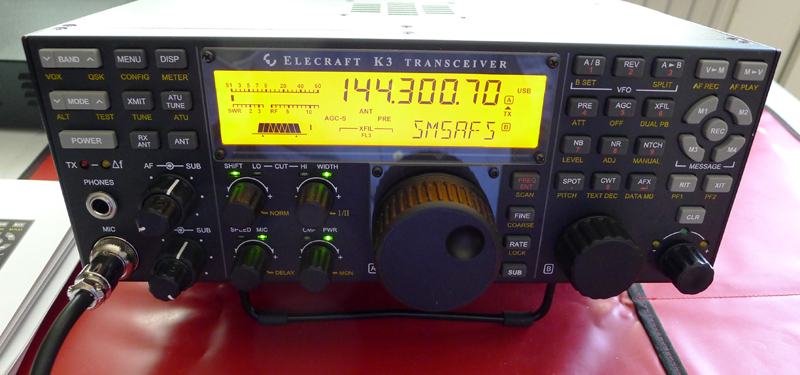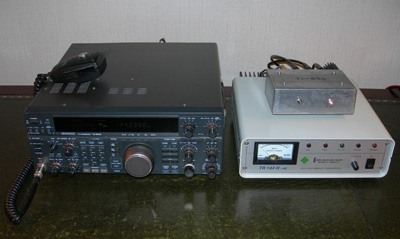 Transverter TR 144
Construction from DB6NT-team.
Frequency conversion: 28/144 MHz
Broadband noise from LO: -156 dBc/Hz @ 10 kHz
RX Gain: 25 dB
RX Noise Figure: 1.2 dB (Front stage 0.9 dB)
IP3: +40 dBm
IF Input power: 0.06-1, 1-50 mW
Output power: 25 Watts
Harmonics & Spurs: -60 dBc
Supply voltage: 12-14 V
Current (Tx): 6 A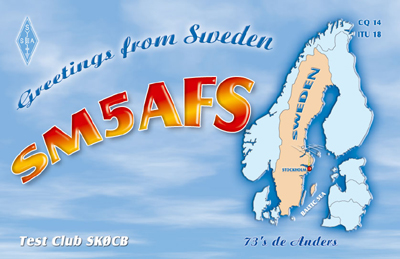 Kenwood TS-850S
Amateur bands: 1.8 - 30 MHz.
General coverage receiver 100 kHz - 30 MHz.
Output power: 10-100 watts (AM max 40 watts)
IF Output: 0-10 dBm. Use Minimum power.
Built-in ATU: 20 - 150 Ohms
CW-filter & TCXO
Current consumption: 20A at 13.8 VDC
The Transverter Interface is based on a kit from
Down East Microwave, DEMI. With this interface you can easily switch from HF to VHF, safe and sound.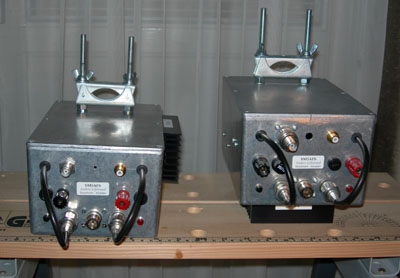 Transverter for 2.3 GHz
Nf: 0.7 dB @ 290°K of ambient temperature
RX-gain: 30 dB
P out: 18-20 watts.
DC Current: 6 A
Weight: 2.3 kg
Sound clip from 2.3 GHz Beacon
SK0UHH
in Stockholm area. The frequency shift in the middle of the clip is that I come in contact with the VFO-knob. Sorry!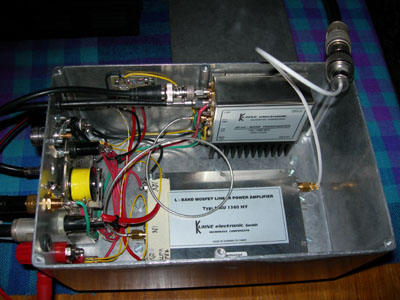 Both transverters uses 144 MHz as intermediate frequency (IF) and max input power is 3 watts.
The T/R-switching is controlled by a sequencer that is trigged by closure to ground.
They are both design for 12 Volts DC.

Transverter for 1.3 GHz (the box with no Lid)

Nf: 0.5 dB @ 290°K of ambient temperature
RX-gain: 30 dB
Power out: 60-70 watts
Coaxial Relay: 65 dB, 800W @ 1 GHz. N-con.
Heathsink: 0.65°/W @ 75W
Temp: Max 55°C
DC Current: 18 A
Weight: 4 kg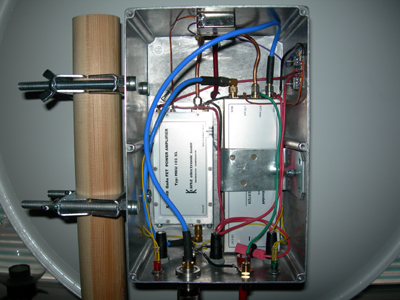 Equipment for 10 GHz (to the left).

Ø 60 cm parabolic dish. Gain 31-34 dB.
Linear dish feed for 10368 MHz.
40 cm Semi-Rigid. Loss approx 1 dB, contacts included
Coaxial Switch RLC SR-2, 70 dB isol. Max 0.2 dB loss.
Transverter MKU 10G2, NF 1.2 dB. Total NF 2 dB.
IF 144 MHz. Max 4 watts of input power.
Amplifier MKU PA 102XL, 10 watts out.
Sequencer trigged by closure to ground.
DC 12 Volts max 5.5 A.
Weight 5.2 kg, dish included.